[vc_row][vc_column width="1/3″][space height="20″][vc_column_text css_animation="top-to-bottom"]
BI-SHOP, WORDPRESS NEVER BE THE SAME.
Nori grape silver beet broccoli kombu beet greens fava bean potato quandong celery. Bunya nuts black-eyed pea prairie turnip leek lentil turnip greens parsnip. Sea lettuce lettuce water chestnut eggplant winter purslane fennel azuki bean earthnut pea sierra leone bologi leek soko chicory celtuce parsley jícama salsify.
From [special_font size="30″ unit="px" ]60,00$[/special_font][/vc_column_text][button href="#" color="flat" dimension="normal" icon="shopping-cart" icon_size="12″ animation="LtR" animate="fadeIn" animation_delay="600″]PURCHASE IT ON THEMEFOREST[/button][/vc_column][vc_column width="2/3″][vc_column_text css_animation="appear"]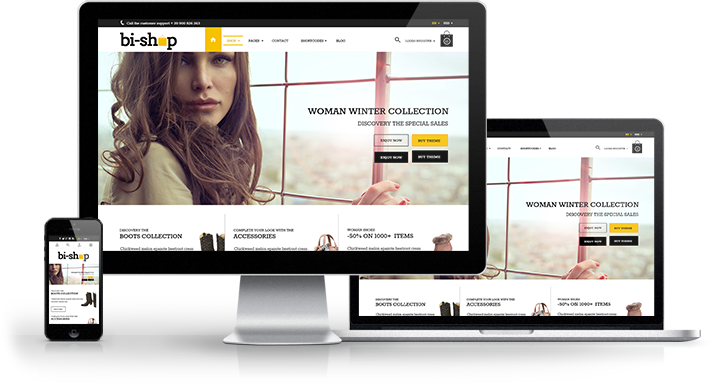 [/vc_column_text][/vc_column][/vc_row][vc_row css=".vc_custom_1403943627293{margin-bottom: 50px !important;}"][vc_column width="1/1″][box_title subtitle_font_size="20″ font_size="20″ font_alignment="center" border="around" border_color="#ffc43a" animate="pulse"]FEATURES[/box_title][/vc_column][/vc_row][vc_row css=".vc_custom_1403943604282{margin-top: 18px !important;margin-bottom: 40px !important;}"][vc_column width="1/4″][box_section layout="vertical" icon_type="theme-icon" icon_theme="columns" icon_size="32″ color="#f7be38″ circle_size="0″ color_circle="#797979″ title="DRAG & DROP COMPOSER" class="box-sections" animate="fadeInUp"]Veggies es bonus vobis, proinde vos postulo essum magis kohlrabi welsh onion daikon amaranth tatsoi tomatillo melon azuki bean garlic.[/box_section][/vc_column][vc_column width="1/4″][box_section layout="vertical" icon_type="theme-icon" icon_theme="code" icon_size="32″ color="#f7be38″ circle_size="0″ color_circle="#797979″ title="200+ SHORTCODES" class="box-sections" animate="fadeInUp" animation_delay="100″]Veggies es bonus vobis, proinde vos postulo essum magis kohlrabi welsh onion daikon amaranth tatsoi tomatillo melon azuki bean garlic.[/box_section][/vc_column][vc_column width="1/4″][box_section layout="vertical" icon_type="theme-icon" icon_theme="flag-checkered" icon_size="32″ color="#f7be38″ circle_size="0″ color_circle="#797979″ title="WPML & TRANSLATION READY" class="box-sections" animate="fadeInUp" animation_delay="200″]Veggies es bonus vobis, proinde vos postulo essum magis kohlrabi welsh onion daikon amaranth tatsoi tomatillo melon azuki bean garlic.[/box_section][/vc_column][vc_column width="1/4″][box_section layout="vertical" icon_type="theme-icon" icon_theme="list" icon_size="32″ color="#f7be38″ circle_size="0″ color_circle="#797979″ title="A LOT OF STUNNING FEATURES" class="box-sections" animate="fadeInUp" animation_delay="400″]Veggies es bonus vobis, proinde vos postulo essum magis kohlrabi welsh onion daikon amaranth tatsoi tomatillo melon azuki bean garlic.[/box_section][/vc_column][/vc_row][vc_row css=".vc_custom_1403943769909{margin-bottom: 25px !important;}"][vc_column width="1/1″][box_title font_size="20″ font_alignment="center" border="around" border_color="#ffc43a" animate="pulse"]TESTIMONIALS[/box_title][/vc_column][/vc_row][vc_row css=".vc_custom_1403943868476{margin-bottom: 30px !important;}"][vc_column width="1/1″][testimonial items="3″ cat="0″ check="1″ style="comic" animate="fadeIn" animation_delay="100″][/vc_column][/vc_row][vc_row css=".vc_custom_1403943889432{margin-bottom: 50px !important;}"][vc_column width="1/1″][box_title font_size="20″ font_alignment="center" border="around" border_color="#ffc43a"]PRICING PLANS[/box_title][/vc_column][/vc_row][vc_row css=".vc_custom_1403943975786{margin-bottom: 30px !important;}"][vc_column width="1/1″][price_table_three animate="fadeIn"] [price_table title="JUNIOR PLAN" price="$120/mo" href="#" buttontext="SIGNUP NOW" show_header="yes" show_footer="yes" price_table_position="left"]
[/price_table]
[price_table type="large" title="HIGHLIGHT PLAN" price="$170/mo" href="#" buttontext="SIGNUP NOW" show_header="yes" show_footer="yes" color="#f7c104″ ]
[/price_table]
[price_table title="ADVANCED PLAN" price="$250/mo" href="#" buttontext="SIGNUP NOW" show_header="yes" show_footer="yes" price_table_position="right"]
[/price_table]
[/price_table_three][/vc_column][/vc_row][vc_row css=".vc_custom_1403944011596{margin-bottom: 0px !important;}"][vc_column width="1/2″][vc_column_text css_animation="appear"]

[/vc_column_text][/vc_column][vc_column width="1/2″][space height="70″][button color="alternative" dimension="large" icon="shopping-cart" icon_size="15″ animation="UtC" animate="fadeIn"]PURCHASE BI-SHOP ON THEMEFOREST[/button][/vc_column][/vc_row]